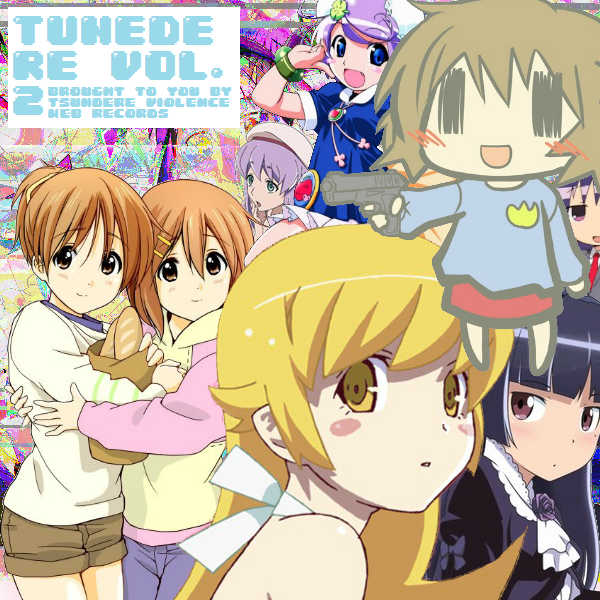 New compilation coming from
Tsundere Violence
, one of the few active lolicore focused labels around. CDR kicks off the album with a pretty sweet mix of jungle leaning breakcore with a dash of wub wub and japanese vocal sampling.
NoSleeves
drops a track that is all over the place in all the right ways, jumpin through genres (breakcore, chiptune, jcore, numerous EDM genres) like nobodies business. Just wish it was mastered a little better, the sound is a tad murky. Pencil has a short and sweet lolicore banger after my own heart, though poorly mastered, sounds like its coming from inside a wet boot taking away from sound like well edited drums and a well chosen vocal track.
Rotten Blood's
two tracks are probably my favorites. Very well produced lolicore/breakcore all around dopeness. Neko Girl's Litter Box throws down three tracks, my favorite being "lolimaidbukkake.jpeg" being very reminiscent of my buddy Tropical Pain Forest.
Omorashi's
"Grapefruit" brings downtempo hip hop-y glitchy-ness to the fold, not too repetitive patterns develop and flow well. Himeko Katagiri's (who is also Omorashi and about 10 other aliases) offering,"On Your Ass Like Some Drawers", shows a continued improvement in his production abilities. Sounding pretty awesome! Rotten Blood comes at you with some pretty sweet lolicore consumables.
Strange Toy
(who also appears as The Bad Samurai on the compilation) provides some pretty cool jittery cut ups a la breakcore status. Noise, Vocaloid, Amens.... pretty much sums up this compilation. If those three things sound good to you, this is a compilation for you. Be sure to check out some of the other releases up on
Tsundere Violence's
website. They have a couple hundred releases for their two years of existence and they are all FREE!
DOWNLOAD
tooth_eye