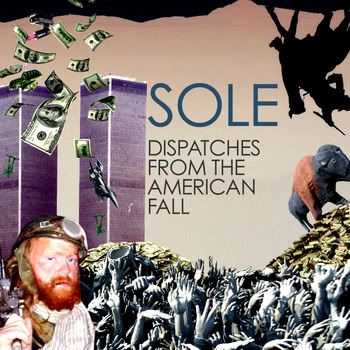 tooth_eye says:
Sole has been putting righteous fire in my belly from close to 10 years now. You could say Sole is a modern day Bob Dylan, but when i compare the two in my mind, Bob Dylan seems nothing more than a close mouthed conformist. These are songs for a "dead", "lazy", "ignorant" generation.
Soleone.org says:
A 23 track mixtape of songs about economic issues covering 10 years of my career. Featuring tracks with, Sollillaquists of Sound, Lil B, Astronautalis, Pictureplane, Odd Nosdam, B. Dolan, Mac Lethal, Buddy Peace, Time, Jared Paul, and the pedestrian. Although the movement has already been dubbed "The American Autumn," its "The Fall" that I've been documenting. Despite what "economists, lobbyists, and experts" have been telling us over the past 20 years the project of "American empire" could only end like all other empires in history… in Collapse.
Like the Folk aesthetic of protest songs that have inspired this work, this music serves as discourse, diatribe & documentation. For the first time in history, we have a global civilization… Corn in the Midwest being used for Ethanol effects the price of tortillas in Bolivia… A border dispute in the Middle East can bring down the World Trade Center… A mortgage bubble bursting in Phoenix can bring down the economy of Greece… And this is only the beginning.
For the first time in my life I'm watching a generation which has largely been written off as "lost" stand up and demand to have its best interests represented in the halls of the capitol. Who knew that our project of spreading democracy in the middle east would have thereverse colonizing effect? The actions in Egypt, Tunisia, & Libya serve as lessons to us all, hopefully we won't have to call in China for air support.
I've been talking this shit for a decade. I felt it would be fitting to compile all the songs I made that touch on economic issues and throw em together for a free download. Here they are.
This is a free download with an option to make a donation. A few of the beats on here I do not make any claim to copyright ownership of, so for legal purposes, any $ that is given is for the labour I have put in, not the music itself.
Direct Download
Bandcamp PLEASE DONATE
BRAND NEW SOLE VIDEO: