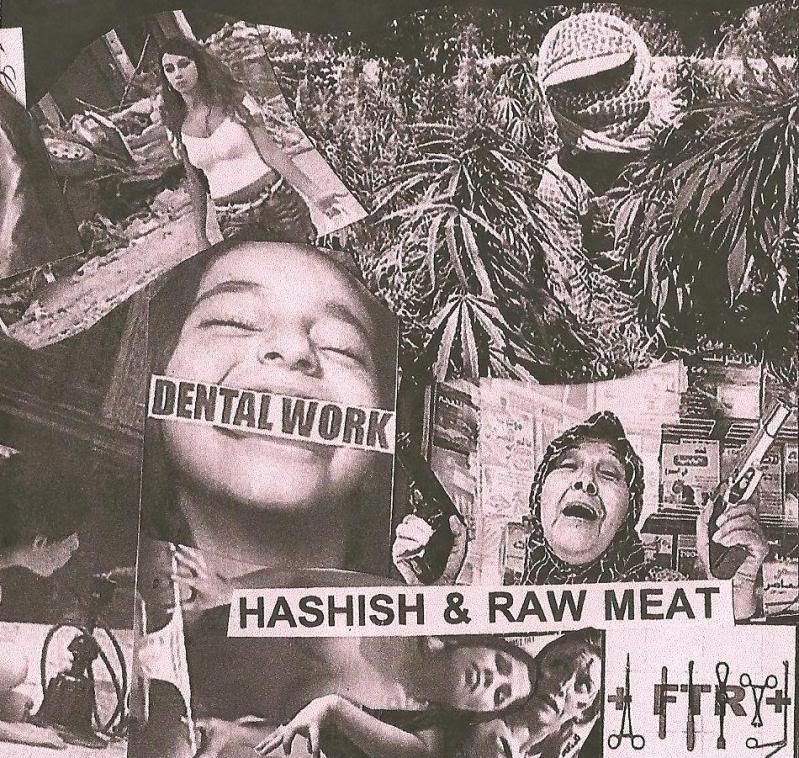 Hashish and Raw Meat is an album that was recorded across the United States. It contains to live sets and two tracks are collaborations. This album is a fantastic example of Jay Watson's Dental Work project. Dental Work is a mash of harsh noise, turn tableism, glitch, breakcore, and anything else that happens to emerge from the unique psyche that is Jay Watson. You dig through the waves of harsh noise wall to find dirt covered gems, samples of 80s soul and rock n roll, hip hop that just won't stop and horses that go clip clop clip clop. Ive had the honor to play with Dental Work many times now, every appearance, every audience is not dissapointed. Below is a picture of Jay getting down live.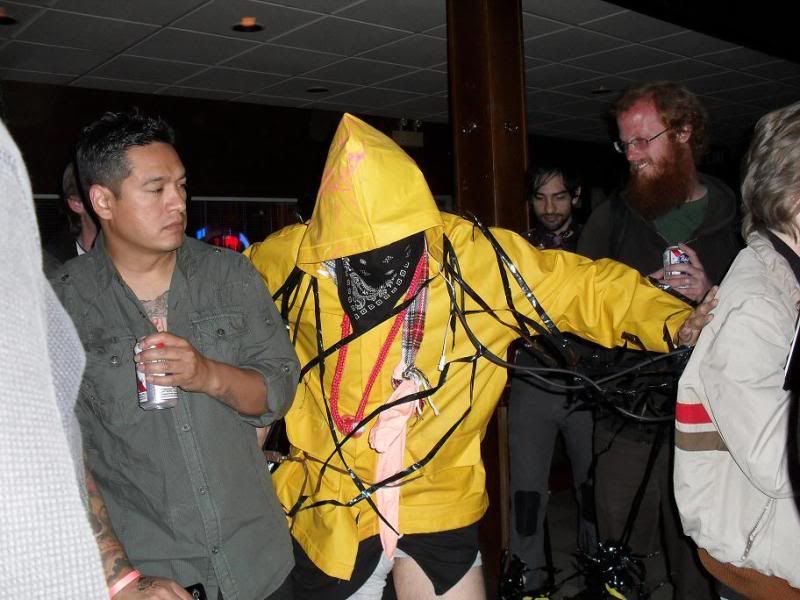 Here is an excerpt from the interview with Dental Work and Final Trauma Recordings:
FTR: How would you describe your sound and working process?
This project is a de-tuned regurgitation of sound and imagery that I feel the lust to create, capture, manipulate, and export in a ritualistic manner. This "music" is an unclassifiable genre of its own, melding all kinds of sounds. It is a rare mixture of Musique Concrete, Extreme Psychedelic, Anxiety, Experimental, Harsh Noise, Diseased Power Electronics, Microwaved Ganja Gangsta Salsa, Dish Washer Cream Puff Pop, Laundryhazmat Hyphy Gorgonzola, Clitoris Booster Shot Show Tunes, Hallucinogenic 8-Bit/16-Bit/Chip Deformities, Improv, Post-Breakcore, Post-Industrial, IDM, Ghettotech, Tape Manipulations, Glitch, DIY Punk, Cut-Up Audio Nightmare Recreations, Supernatural AM Radio Transmissions,, Keta-Drone, Lysergic Turntable-ism, Maximum Discomfort, Spiritual De-pantsing, Rigorous Mental Questioning, Forbidden Pre-teen Fascinations , Ebony Pornography Obsessions, Authentic Mexican Restaurant Addictions, Duct Tape/Broken VHS Tape Mutilation, Frantic Blow-up Doll Destruction, Unnecessary Panic, Heart Attack Speed Turntable Thrust, Rusty Knife Wielding Eccentric Masturbation, LSD Laced Childhood Flashbacks, Extra Terrestrial OUIJA Freak outs, Shamanistic Ketamine Blackouts, Ritualistic Bukakke Ceremonies, OG Owl Shift Hustlin', Chopped & Screwed Grindcore, Cross-Dressing Nomadic Pee-Pee Noise, 24/7 Norweigan Black Metal Tributes, Prostitute Pop Poop Sound Collage, Sonic Queso Drenched Neo Arabic/Russian Hardcore, Post-Apocalyptic Ghetto Warfare, German PK380 Recollections, Found Sounds, Avant-Garde, Warped Delerious Tropical Free Jazz/Cannibalism, Subliminal Messages, Outsider Trash Art, Deteriorating Anti-Religious Christmas Jingles On Psilocybin Sojourns, and anything else I decide to meddle with! I use a variety of methods for recording and editing. My live show is a whole other story! Full of controversial theatrics, drag, improv sound manipulation, crowd interaction, humiliation, degredation, toys, costumes, knives, hatchets, saws, danger, uncertainty and a mean buzz to kick it all of! I am in a constant state of evolution!
And here is one of Jay's personal favorite live videos of Dental Work:
Final Trauma Recordings
Hashish and Raw Meat link:
DOWNLOAD
tooth_eye