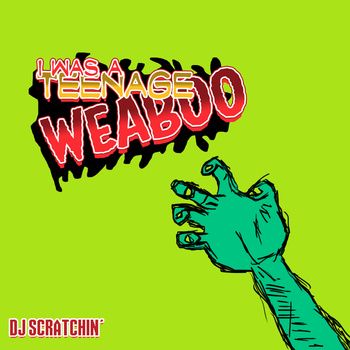 DJ Scratchin' aka Mike DeBisco's new four track EP "I Was A Teenage Weaboo" does not disappoint. Including just about every form of EDM that is currently popular, he infuses a freshness that keeps the listener interested and breathes new life into stale and played out genres. I recently caught up with Mike DeBisco and shot some questions his way.
Interview with DJ Scratchin'
"Tooth_Eye (Magicore): When did you start making music of the electronic variety? When did you start making music of any kind?
DJ Scratchin': I started producing my own tunes in early 2005, I was 13 at the time so I'll admit to not understanding a single thing I was doing haha.
Tooth_Eye (Magicore): Who or what first inspired you to make music?
DJ Scratchin': My first experience with music was actually after I discovered a DDRMAX machine at a local arcade. I'd never seen anything like it before and I became instantly fascinated with the arrow stomping game! It wasn't really until I played Roxxor's answer to DDR, "In The Groove" that I really became interesting in producing my own music. I came across an artist by the name of Kid Whatever and I was astounded by his work, just like my first experience with DDRMAX it was like nothing I had ever heard before. I'd say he was my main source of inspiration that got me where I am today and I still look up to him in some regards when it comes to making interesting and innovative art.
Tooth_Eye (Magicore): What are you most listening to currently?
DJ Scratchin': I listen to a little bit of everything. You would most likely find me walking around with my phone on shuffle playing everything from K-Pop to speedcore.
Tooth_Eye (Magicore): What other art forms/aspects of human culture influence your music most?(if applicable)
DJ Scratchin': The Internet is a big influence on my music, it's literally the gateway to everything. I find most of the samples I'm looking for online, I find new and interesting people to talk to all the time, it's just a great place for social networking and promoting your stuff. I'm also a big anime fan and I have been involved in the furry fandom as well. I'm a drifter, I go from scene to scene, fandom to fandom, I'm all over the place all the time!
Tooth_Eye (Magicore): What other alias' have you produced under?
DJ Scratchin': Although I had DJ Scratchin' as my main solo project I have also reserved particular aliases for particlar genres. PLASTIC was for happy hardcore/j-core/breakcore, Robotraxx was a lo-fi 8it influenced super eurobeat label (similar to that of Diskowarp), Bandmates on Bubble Tea was a collab between myself and my friend Alexa and Yaoikiller was a joke project exploiting the lolicore community. All of these projects are defunct however, I've decided that having so many aliases would be confusing for people and I don't mind producing everything under DJ Scratchin' since it's such a mixed-bag of a project anyway :P
Tooth_Eye (Magicore): Do you plan to continue any of your side projects?
DJ Scratchin': I don't think I will be reviving any of these projects, no.
Tooth_Eye (Magicore): Why did you choose the name for your newest album?
DJ Scratchin': The title "I Was A Teenage Weaboo" is a reference to the 1957 horror movie "I Was A Teenage Werewolf". It was a initally a joke EP consiting of a few unreleased tracks I had lying around on SoundCloud but it actually turned out to be one of my most successful releases to date haha.
Tooth_Eye (Magicore): What is a weeaboo?
DJ Scratchin': The term "weeaboo" (which is ironically spelled incorrectly on my release) is a deragatory word for a fan of Japanese culture which is usually referred to as "otaku" within the community.
Tooth_Eye (Magicore): Are you into Japanese culture?
DJ Scratchin': Yes, absolutely! I love all things anime. I'm a huge nerd like that but society has come to accept people like us and gave us cool conventions to hang out in and babble nonsense to each other about our favorite spiky haired heroes and heroines! My favorite anime in particular is Neon Genesis Evangelion, you should watch if you haven't already it's an absolute masterpiece.
Tooth_Eye (Magicore): Why did you choose your name DJ Scratchin' or any of your other alias?
DJ Scratchin': It's a funny story, really. One day I was just scratching on my binder, slamming on my desk and rapping over it into a cheap desktop mic. I burned my first "single" to a CD-R and handed out to 8 of my friends. I remember someone telling me "I wouldn't even pay a penny for this" and that's when I knew I just had to make more of this crap. The joke project later turned into a serious project as I became more and more interested in making music and now here I am today still at it!
Tooth_Eye (Magicore): What was the first net label you heard of/where exposed to/etc?
DJ Scratchin': The first net label I approached was Placenta Recordings in 2007, I don't exactly remember how I met Jay but someone showed me the Placenta Recordings Vol. 1 compilation and asked if I wanted to submit something toward it. I contacted him and sent some noisy breakcore track I did when I was 15. After that I sent a few more tracks to Placenta Recordings and later got in touch with RedSK from TRASHFUCK Records where I released a split entitled "Lolicore" with RedSK, Dental Work and teh_soup_rebellion and myself in 2008. I've been involved with many other net labels around the world since.
Tooth_Eye (Magicore): What was the first label that released your material?
DJ Scratchin': My first official release on a label would have been the"Get Ready" EP on Breakbit Music in 2011.
Tooth_Eye (Magicore): What are your plans for the future?
DJ Scratchin': Well, I'm transferring from community college into a four year university so that's definitely a big step. In terms of music I have another EP planned which may be released later this year and another full length album which I've been working on since August.
Tooth_Eye (Magicore): Have you performed live before? (if not, do you plan to. if you dont plan to, why?)
DJ Scratchin': Yes, I've performed live. The first two shows were at a local music festival called SSAF or Summer Soul Arts Festival, that was in 2009 and 2010 respectively. I also DJ'd a set at CloverCon which is a small indepently ran anime convention in New Jersey, it was a ton of fun lemme tell ya!
Tooth_Eye (Magicore): Do you have any shows coming up?
DJ Scratchin': Nope, nothing is scheduled as of yet.
Tooth_Eye (Magicore): Whats your favorite way to release your art?
DJ Scratchin': I used to release everything physically because there was really no need for a digital market before iTunes came into play. Since CDs are a dying format I've resorted to releasing everything online via sites like Bandcamp. I'd still like to release a few more physical albums in fact I've even considered starting a Kickstarter to fund a physical release of I Was A Teenage Weaboo. We'll see where that goes but for now it's just an idea I had.
Tooth_Eye (Magicore): Are you afraid of the changing climate of the internet?
DJ Scratchin': Yes and no. Social networking is both a blessing and a curse. While it connects people with one another it's also turning into a free for all for attention. I see more and more people fishing for likes on their page or relying solely on tasteless memes as their advertising ploys. I mean, there's really no friendly contact with producers and their fans anymore. It's every man for himself out there and that's not what music is about. Music is about expression and having fun and if you're focusing more on the amount of money you're making off your Beatport exclusive single than being a dork and having fun in your bedroom listening to your own tunes then you are most definitely not an artist by my standards.
Tooth_Eye (Magicore): If there were no net labels do you think you would have come as far with your music without them?
DJ Scratchin': Labels are there to promote the artist. An artist can survive on their own without the promotion from others, sure but is it easier on the artist, no. Since I left Breakbit I've been primarily releasing music on my own and I've been doing fairly well for myself. I don't tend to shove my music into people's faces I just let them take what they want which is why the majority of my music is free, if not pay as you like. Sure, you may not be making a large sum of the profit but at least you're trying to make a name for yourself out there!"
Heres the link to the album:
DOWNLOAD
tooth_eye