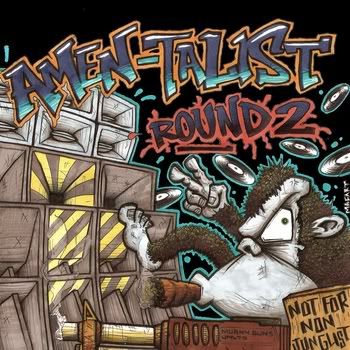 "This compilation is a selection of tracks from various members of Amen-tal. (Plus a few additional tracks from some like minded producers from the Jungle Syndicate and Life 4 Land crews.) A collective of producers who all enjoy hearing the amen break more frequently than your doctor would normally recommend. The beats they make range from ambient drones to full on filth riddled breakcore, but with their main focus being on various strains of jungle music." - taken from Acroplane Recordings website
Great tracks from Dr...um, Axewound, Sams Myth, Sargy+Raggamuffin, and a few more. After being out of touch with contemporary Jungle for too long, I am happily surprised to see so many talented artists keeping things rolling and going strong. It has been well over 20 years since Jungle music came onto the music scene. It is a testament to the genre that listeners are just as enthusiastic now as they were when Jungle was still a new kid on the block. The amen will never go stale. LISTEN CHOON!
Be sure to check out the
Jungle Syndicate
page where i found about this awesome release and some really great artists!
Link to Bandcamp page with streaming tracks:
DOWNLOAD
Direct Download:
DOWNLOAD
tooth_eye